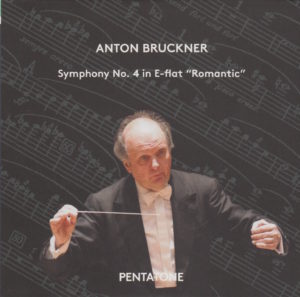 This morning, I am listening to Anton Bruckner's Symphony No. 4 in E Flat Major (WAB 104), nicknamed "Romantic," interpreted by Polish-born German conductor Marek Janowski (1939-).
Maestro Janowski's orchestra is Orchestre de la Suisse Romande.
The following bears repeating since it plays a role in the experience of listening to this morning's symphony: the CD box set itself.
The Pentatone label is carving out a niche for itself as the high-end source for audiophiles of Classical music. Everything about this Janowski box set – like the Georg Tintner box set released by Naxos I reviewed in my 144 days site – screams high quality. In fact, if I was going to release a cycle of a conductor's symphonies, and I wanted to do it right, I'd do it this way (or the Naxos way – but the sound is better on the Pentatone label).
The Pentatone box is made of heavy cardboard with a top that slides off, just like the CD box from Naxos.
Inside is a treasure trove of CDs, a massive booklet of notes, and even a voucher for a free album download.
I'm tellin' ya, this is a keepsake box, the sonic material given the treatment it deserves.
Just FYI.
If you want to know what I thought of Maestro Janowski's interpretations prior to this day, check out Day 4, Symphony No. 1.
And Day 9, Symphony No. 2
And Day 15, Symphony No. 3.
Here are the objective aspects of today's recording:
Bruckner's Symphony No. 4 in E Flat Major (WAB 104), nicknamed "Romantic," composed 1873-1874
Marek Janowski conducts
Janowski used the "Version 1878/1880, Nowak Edition," according to the back of the CD sleeve
Orchestre de la Suisse Romande plays
The symphony clocks in at 63:29
This was recorded at Victoria Hall, Geneva, Switzerland, in October of 2012
Janowski was 73 when he conducted it
Bruckner was 50 when he finished composing it (the first time)
This recording was released on the Pentatone label
Bruckner wrote his symphonies in four movements. The time breakdown of this one (Symphony No. 4 in E Flat Major), from this particular conductor (Janowski) and this particular orchestra (Orchestre de la Suisse Romande) is as follows:
I. Bewegt, nicht zu schnell……………………………………………………………………18:15
II. Andante, quasi allegretto…………………………………………………………………15:29
III. Scherzo. Bewegt (With motion) – Trio: Nicht zu schnell (Not too fast)……………………………………………………………………………………………………….10:54
IV. Finale: Bewegt, doch nicht zu schnell (With motion, but not too fast)……………………………………………………………………………………………………….18:47
Total running time: 63:29
From its entry on Wikipedia comes this info regarding the 1878/1880 Version,

1880 version (aka 1878/1880)
After the lapse of almost a year (during which he composed his String Quintet in F Major), Bruckner took up his Fourth Symphony once again. Between 19 November 1879 and 5 June 1880 he composed a new finale – the third, though it shares much of its thematic material with the first version – and discarded the Volksfest finale. Thus the 1880 version is the same as the 1878 version but with a new finale. This was the version performed at the work's premiere on 20 February 1881, which was the first premiere of a Bruckner symphony not to be conducted by Bruckner himself. This version is sometimes referred to as the 1878/80 version.
The liner notes by Franz Steiger are also first-rate.
Here's a very brief excerpt from the essay on today's symphony:
SYMPHONY NO. 4 IN E FLAT,
"ROMANTIC": THE POPULAR

The beginning of the first movement has a double function: on the one hand, this "romantic" horn call above the characteristic string tremolo constitutes the musical symbol of nature par excellence; and on the other hand…
You'll have to buy the box set to read the rest of that fine little chapter.
Okay. Now, here are the subjective aspects of today's recording:
My Rating:
Recording quality: 5
Overall musicianship: 5
CD liner notes: 5 (big, thick, substantive booklet with insightful essays about the symphonies, the orchestra, and the conductor translated into English, German, and French)
How does this make me feel: 4
Typically, when I listen to Bruckner's Fourth, I am blown away by the first movement.
This time, I paid the most attention to the Andante (Movement II). The horns were good at the opening of Movement I. But not as good as I've heard from previous conductors – and that despite the sonic superiority of the Pentatone recording (which, I just discovered, is DDD – and all-digital recording). For some reason, Janowski's Andante captured my attention with its free-flowing beauty and grace. This was a joy to behold.
The other movement that stuck out to me was Scherzo (Movement III). That usually does, to be honest. Bruckner's Scherzos are almost always my favorite. This time was no exception, but in large part because of the superb recording. This truly is a remarkable recording as well as a noteworthy performance.
I have to give this Janowski performance another very big "Huzzah!"
By the way, I couldn't give this the full all-5 rating because of the aforementioned Movement I. I didn't feel it was as good as it could have been, especially given the high recording standards.
To be honest, maybe I built up this performance so high that it couldn't possibly live up it. I was thinking Movement I was going to sound like a a host of angels. It didn't quite measure up to that.