My "office" this morning is, once again, Baker Book House.
I just can't get enough of the cavernous section of Used Books, the delicious coffee and equally delectable store-made scones, the friendly staff, and the feeling of vibrancy here. This place is alive, boys and girls. It's a great place for writing. Or musing. Or researching. Or buying. (God knows, I've purchased my share of books here over the years.)
Anyway…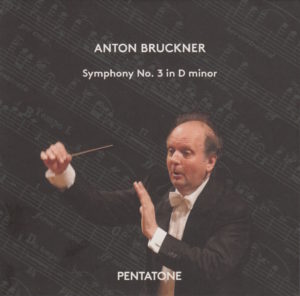 This morning, I am listening to Anton Bruckner's Symphony No. 3 in D Minor WAB 103 (nicknamed "Wagner Symphony"), interpreted by Polish-born German conductor Marek Janowski (1939-).
Maestro Janowski's orchestra is Orchestre de la Suisse Romande.
The following bears repeating since it plays a role in the experience of listening to this morning's symphony: the CD box set itself.
The Pentatone label is carving out a niche for itself as the high-end source for audiophiles of Classical music. Everything about this Janowski box set – like the Georg Tintner box set released by Naxos I reviewed in my 144 days site – screams high quality. In fact, if I was going to release a cycle of a conductor's symphonies, and I wanted to do it right, I'd do it this way (or the Naxos way – but the sound is better on the Pentatone label).
The Pentatone box is made of heavy cardboard with a top that slides off, just like the CD box from Naxos.
Inside is a treasure trove of CDs, a massive booklet of notes, and even a voucher for a free album download.
I'm tellin' ya, this is a keepsake box, the material given the treatment it deserves.
Just FYI.
Here are the objective aspects of today's recording:
Bruckner's Symphony No. 3 in D Minor WAB 103 (nicknamed "Wagner Symphony"), composed 1873
Marek Janowski conducts
Janowski used the "1889 Version, Nowak Edition," according to the back of the CD sleeve
Orchestre de la Suisse Romande plays
The symphony clocks in at 53:20
This was recorded at Victoria Hall, Geneva, Switzerland, in October of 2011
Janowski was 73 when he conducted it
Bruckner was 49 when he finished composing it (the first time)
This recording was released on the Pentatone label
Bruckner wrote his symphonies in four movements. The time breakdown of this one (Symphony No. 3 in D Minor), from this particular conductor (Marek) and this particular orchestra (Orchestre de la Suisse Romande) is as follows:
I. Gemäßigt, mehr bewegt, misterioso (Moderate, more animated, mysterious)……………………………………………………………………………………………………20:48
II. Adagio. Bewegt, quasi Andante (With motion, as if Andante)………………………………………………………………………………………………………..14:26
III. Scherzo. Ziemlich schnell (Fairly fast) (also Sehr schnell)……………………………………………………………………………………………………………..6:25
IV. Finale. Allegro (also Ziemlich schnell)………………………………………………………11:37
Total running time: 53:20
From its entry on Wikipedia regarding the versions of this symphony, "The 1889 version was published by Nowak back in 1959."
From what I can see, it appears to be an odd choice of version. But who am I to judge?
Here's a quote from the superb CD booklet written by Franz Steiger:
SYMPHONY NO. 3 IN D MINOR: THE PROBLEM CHILD
The Symphony No. 3 in D Minor, dedicated to Richard Wagner, is considered to be Bruckner's symphonic "problem child." Beloved, but not necessarily fortunate. If you will, the symphony that was never truly finished.
You'll have to buy the box set to read the rest of that fine little chapter.
Okay. Now, here are the subjective aspects of today's recording:
My Rating:
Recording quality: 5
Overall musicianship: 5
CD liner notes: 5 (big, thick, substantive booklet with insightful essays about the symphonies, the orchestra, and the conductor translated into English, German, and French)
How does this make me feel: 4
The one word the comes to mind when I listen to Janowski's interpretation of Bruckner's Third is "epic."
I continue to be impressed with these Pentatone recordings. The first three performances have been spectacular. Well recorded, well played, well conducted. Masterful.
The was one odd little thing in Movement I: Around the 719-7:21 mark, there's an sound shift that seems to be an edit of some kind. At least, when I'm hearing it with my earbuds in, I detect a shift in the location of the sound. It shifts. It's like someone dropped strings into that section, or slightly turned up the volume on them during recording.
I liked this recording a lot. I can go full-on "Huzzah!" But it's not a "5" in my book. The symphony itself is pretty good. But it's not Eighth or even Ninth.
Also, this performance is quite brisk, only 53:20 long. That actually helps add to my enjoyment of these symphonies – as long as the conductor is not taking liberties, such as unduly speeding up the tempo, or cutting arts, or using a really crappy version.